Former dog owner sentenced to probation and jail time.
E-TAILS NEWSLETTER

Guilty Charge in Abuse Case!
In August of 2019, the Phoenix Police Department seized two dogs for poor conditions, including no water. One of the dogs also had severe hairloss and was in need of immediate medical attention.
Raider's Sleepover Success
Raider arrived at AHS in January of 2020 from an overcrowded shelter through Project Reach Out, which allows us to accept dogs from other animal welfare agencies that are running out of kennel space. Though his many volunteer and staff member buddies gave him daily enrichment, walks, and play time, Raider needed a little something extra to decompress from his new environment.



Duck Rescue Caught on Camera
After AHS' EAMT™ Mark Smith got the call of an injured duck in the middle of a pond, his first thought was, "Where do I get a boat?" Fortunately, a fellow EAMT had an inflatable raft and he was able to save the duck.
Interested in Fostering Lulu?
Hello everyone, I'm Lulu! I'm a pretty little lady looking for a Foster Hero to take care of me while I recover from a bad kitty cold called calici. I only need foster until late February and I was hoping maybe I could stay with you?

Foster homes help our pets heal and save lives. Foster Heroes expand our capacity for care, providing temporary homes for 400-800 pets at any given time. Interested in becoming a Foster Hero to Lulu? Call 602.997.7585 Ext. 2086 or click here to get started.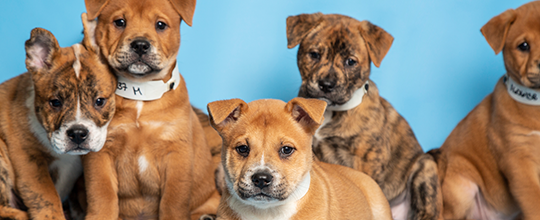 Upcoming Events
Animal Ed-ventures Spring Break Camp
The Arizona Humane Society offers two exciting Spring Break camps for kids ages 9-12! Campers will explore the world of animals and animal careers through hands-on activities, games and animal interactions.
Animal Doctors Spring Break Camp - Mar 9-11
Wild Wonders Spring Break Camp - Mar 16-18

Virtual Kitten Shower
Kitten season is coming, and orphaned newborn kittens will need your help! For the month of February, we are hosting a Virtual Kitten Shower! By donating an item on this list, you will be helping our community's most vulnerable feline friends cared for in our Bottle Baby ICU and Kitten Nursery, as well as the thousands cared for in our Foster Hero homes each year.
Entire Month of February

Compassion with Fashion 2020: Repuplicans & Democats
Calling all Party Animals! The Arizona Humane Society invites Re-PUP-licans, Demo-CATs and all pet lovers in-between for Compassion with Fashion 2020 the one party everyone can get behind!
Sunday, March 29, 11:00 a.m.-2:00 p.m.

Train Your Dog to Be a Superstar
Dealing with pet behavior issues or just want to teach your pup the basics? The Arizona Humane Society is excited to offer dog training courses and private training lessons for dogs and puppies.

Unsubscribe from receiving email, or change your email preferences.