Don't miss this very special two-day event!
E-TAILS NEWSLETTER

Furever Home for the Holidays: Waived Adoption Fees for All Pets!
Longtime supporters of AHS, Stuart and Ted Tufty, have generously underwritten the adoption fees for all adoptable pets during a very special Furever Home for the Holidays two-day event on Friday, December 20 and Saturday, December 21! Pets of all ages will participate at all AHS adoption locations.
Matching Opportunity: Stranded for Six Days
Disabled Army Veteran Frank Colwell Collapsed in Early October. He was stranded on the floor, unable to get up or talk. For six days. And watching over Colwell were his faithful companions, Sassy and Chewey, who never left his side.

January is National Train Your Dog Month: Enjoy 20% Off AHS' Dog Training Classes!
Whether you're looking to teach your dog the basics or hoping to hone special skill areas, we have a class for you. Use promo code SITFOR20 by Friday, January 31, 2020 to receive 20 percent off any group class!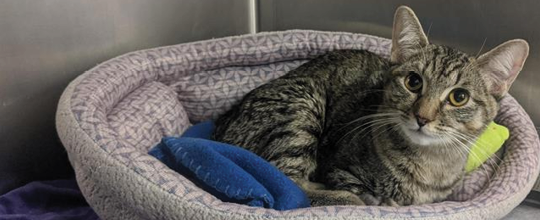 Interested in Fostering Rosette?
My name is Rosette and I could use some time away from the shelter to recover from an FHO surgery and URI. I was also recently spayed so I need someone to monitor my two incisions, make sure I am using my limbs and keep an eye on my URI symptoms. Do you think I could stay with you until I am feeling better? I am only needing a Foster Hero until January 8th.

Foster homes help our pets heal and save lives. Interested in becoming a Foster Hero to Rosette? Call 602.997.7585 Ext. 1041 or click here to get started.


Unsubscribe from receiving email, or change your email preferences.