Dog stabbed by owner treated in AHS' Trauma Hospital.
Copper Adopted After Being Saved In AHS Trauma Hospital
After being paralyzed from multiple stab wounds during a horrific case of abuse, Copper spent more than a month recovering in our Second Chance Animal Trauma Hospital™ before finding his forever home.

Clear the Shelters with Telemundo Arizona
Our friends at Telemundo Arizona are back to help AHS "Clear the Shelters" again this summer! On Saturday, August 17, adoption fees for all AHS dogs and cats 1 year and older will be 50% off at all adoption locations.

Grand Theft Pawto: Caught on Video!
You wouldn't steal a car if it was all alone in a parking lot and the same goes for kittens, even though our first instincts are to help. Most likely mom cat is out getting food and will be back in a few hours, and it's critical that the kittens remain in her care as she offers the best chance for survival.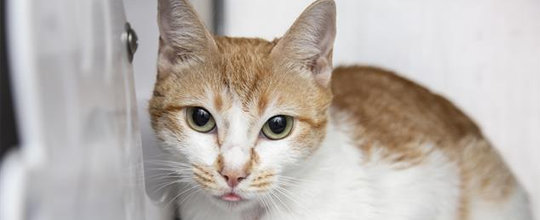 Interested in fostering Cindy Lou Who?
Hello friends! My name is Cindy Lou Who and I have come down with a kitty cold, also known as an upper respiratory infection. Do you think I could rest at your house until I'm feeling better enough to find my forever family? I need foster care until approximately August 23rd.

Foster homes help our pets heal and help save lives. Interested in becoming a Foster Hero to Cindy Lou Who?
Call 602.997.7585 Ext. 1041 or click here to get started.

Unsubscribe from receiving email, or change your email preferences.