The video was horrific.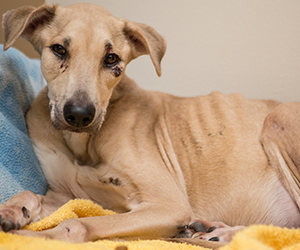 Animal Cruelty Update: Jail Time, Justice and a New Home for Baby!
The video was horrific. It showed a frail Labrador mix who was literally skin and bones attempting to stand on her own after being let out of a crate...[Read More]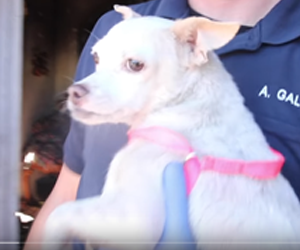 Nearly Three Dozen Chihuahuas Rescued From House Fire



Thirty little faces, scared and confused. That's what awaited Arizona Humane Society Emergency Animal Medical Technicians™ when they were called to scene of a house fire in Phoenix earlier this year. Nearly three dozen Chihuahuas, a mix of 6-week-old puppies and adults, were rescued from the fire. Family members were able to take a few dogs and 23 were transferred to AHS' Second Chance Animal Trauma Hospital™ for treatment...[Read More]


60 Years of Pets on Parade



The Arizona Humane Society's weekly TV show and Arizona's longest-running television show, Pets on Parade, celebrated its 60th anniversary on Saturday, December 8 at on KTVK-3TV! The show debuted on December 8, 1958, just one year after AHS was founded...[Read More]


Sunnyslope Thrift Store Closing



After nearly two decades serving our community, AHS' Sunnyslope Thrift Store will be closing. Sunnyslope Thrift's last day of operation will be December 31st, but we'll still have plenty of great bargains available at our Mesa and Phoenix thrift locations. We will also continue to welcome donations of new and gently used items at our Sunnyslope Thrift location Tuesday-Saturday from 10 a.m.-3 p.m. beginning January 2, 2019. Thank you to all of our loyal shoppers!...[Read More]


Interested in fostering Alice?
My name is Alice. I was surrendered by my owner to a really nice Emergency Animal Medical Technician™. After a complete checkup, I got a clean bill of health and was on my way to go to the adoption floor when I caught a little cold. Now I am asking for your help to nurse me back to health so that I can be on my way to adoption before Christmas! I will need medication to treat my Upper Respiratory Infection which will be supplied by the shelter. My anticipated return date will be on or before December 24th. I'm hoping you will be my hero and help make my Christmas wish come true.

Interested in becoming a foster hero to Alice? Call 602.997.7585 Ext. 1041 or click here to get started.
AHS Public Volunteer Event: Happy Paw-lidays
Saturday, December 15, 9:00 a.m.-11:00 a.m. - More Info
12 Bars of Charity: Bar Crawl to Benefit Homeless Pets!
Saturday, December 15, 2:00 p.m.-6:00 p.m. - More Info
Youth Event: Holiday Movie Night
Saturday, December 22, 5:00 p.m.-8:00 p.m. - More Info
Adoption Event: Cobblestone Auto Spa - Tempe
Saturday, January 5, 9:00 a.m.-1:00 p.m. - More Info
Dog Training Classes - More Info


Unsubscribe from receiving email, or change your email preferences.