Double your impact for pets like Haven.
Matching Opportunity: Your Gift Doubled to Help Pets Like Haven
Crippled by two broken legs after being hit by a car, Haven was rescued off the streets as a stray by our pet paramedics. She was rushed to our trauma hospital, where she underwent surgery and our medical team inserted metal plates and screws into both of her legs...[Read More]
Cat Reunited with Mom After Seven Years



Panda the 8-year-old cat was brought to AHS after a Good Samaritan took him for three months. Panda's temporary mom opened her home to him and made him an indoor cat after he kept getting himself stuck in trees with no way down...[Read More]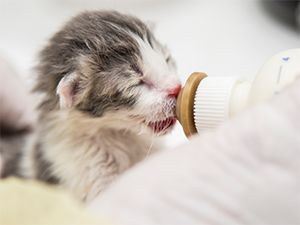 Bottle Baby Kittens Need Your Help!



Kitten season is right around the corner and we will soon be full of newborn kittens who need your help! Can you open your home for just a little while to an orphaned, homeless kitten? We will provide all training, food, medication, supplies and support to help you give hope to these kittens who no longer have their mothers to care for them. Take the first step toward becoming a Bottle Baby Foster Hero by completing our online orientation today!...[Read More]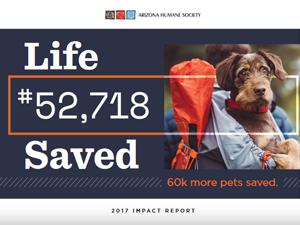 Look How You've Helped Us Save 60K Lives



We've saved 60,000 additional pets over the past four years thanks to spay/neuter outreach, our Pet Resource Center that helps keep pets in homes, behavior rehabilitation and new medical programs like Mutternity Suites, Bottle Baby Kitten ICU and Parvo Puppy ICU. Read our Impact Report and learn how your support made this remarkable transformation possible...[Read More]


Interested in fostering Silver?
Silver is having a bit of a hard time adjusting to the shelter environment. She'd love to go to a foster hero home where she can relax, enjoy a quieter space and be more comfortable. Silver is also recovering from upper respiratory infection.

Interested in becoming a foster hero to Silver? Call 602.997.7585 Ext. 1041 or click here to get started.
Summer Camps
JUNE-AUGUST 2018 - More Info
Dog Training Classes - More Info
Dog Training Guest Event: Certified Trick Dog Instructor Workshop with Do More With Your Dog!
April 13-14, 9:00 a.m.-4:00 p.m. - More Info
Bottle Baby Training Workshop
April 21, 10:30 a.m.-Noon - More Info

Unsubscribe from receiving email, or change your email preferences.