Huge Win for Dogs! City of Phoenix Passes Tethering Ordinance
City of Phoenix Passes Tethering Ordinance

The Phoenix City Council has unanimously passed a forward-thinking ordinance that makes it a crime to tether an animal on less than 10 feet, in harsh weather conditions or with a collar that's too tight, giving the Arizona Humane Society an important additional tool to address a common call to its animal-abuse hotline...[Read More]


AHS Deployed to Cedar Fire



As the state's designated responder for animals in distress during natural disasters, the Arizona Humane Society has been deployed by the Arizona Department of Emergency Management (ADEM) and Navajo County to assist in the Cedar Fire, burning just South of Show Low...[Read More]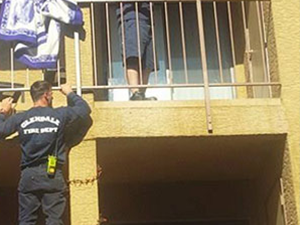 Arrest in Glendale Balcony Dog Case



Officials announced on June 9th that 28-year-old Adrian Gonzalez was arrested for felony animal cruelty in the Glendale balcony dog case...[Read More]


Pet Safety Tips for Arizona Summer!



Extreme heat is set to hit the Valley this weekend, with temperatures nearing 120 degrees. View these tips to ensure your pet remains safe and out of harm's way...[Read More]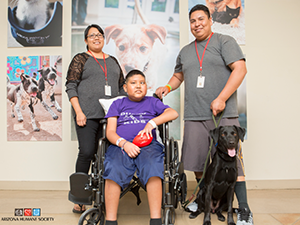 A Make-a-Wish Adoption comes to AHS



Every day, we have the fortune of seeing first-hand the spirit, resilience and power of pets, whether it is in our own homes, in our shelter or in the community. Some have been turned into AHS due to hardships their owners face, some have been rescued by our Emergency Animal Medical Technicians™ (EAMTs) and some are with us temporarily as their owners serve our country oversees. Regardless of how they come to us or how long they stay, we also get to see first-hand the joy and love that they bring to their new families...[Read More]


Featured Pet: Athena and Her 12(!) Puppies

Exhausted mom Athena needs a foster hero home to help care for her and her 12 puppies while the adorable pups gain weight in preparation for their special adoption day. Athena and her pups are just a few of the nearly 250 pets currently in need of a foster hero home. These pet's needs range from simple weight gain to kennel rest to overnight feedings. AHS provides all of the supplies and medical care, free to the foster parent. The length of foster cases can be as short as overnight for bottle baby kittens to a couple of weeks for animals with colds to month-long cases involving orthopedic cases.
If you're interested in fostering Athena and her dynamic dozen or any of our pets in need of foster, visit our blog to learn how you can help.
Foster Hero Orientation
June 18, Noon-2:00 p.m. - More Info

Waggin' Wheels Mobile Adoption Vehicle @ Dog Days of Summer - Chase Field
July 3, 1:10 p.m.-5:10 p.m. - More Info

Victory Vets Summer Camp
July 11, 8:00 a.m.-July 15, 4:00 p.m. - More Info

Animal Adventure Summer Camp
July 18, 8:00 a.m.-July 22, 4:00 p.m. - More Info

It's Hip to Snip - $20 Spay/Neuter Day
July 21, check-in begins at 6:00 a.m. - More Info


Unsubscribe from receiving email, or change your email preferences.