Emergency Animal Medical Technicians ™ work for days to rescue kitten.
Five-week-old kitten rescued from manhole

It took three days and the help of the City of Phoenix, but it was well worth it when Arizona Humane Society (AHS) Emergency Animal Medical Technician™ (EAMT™), Kelley Mallon, finally rescued the little five-week-old kitten, Tera, from a manhole in the center of 35th Avenue just North of Greenway...[Read More]


Is your pet cute enough to be a pinup model?



The Arizona Humane Society is hosting an open casting call seeking the Valley's cutest rescue pets for our 2017 calendar! Submit your pet's most adorable photo today and he or she could win a spot in our calendar...[Read More]


The Finish Line is in Sight



After decades of tireless advocacy, live Greyhound Racing is coming to an end in Arizona. The Arizona Senate unanimously passed a bill last week that, when signed by the governor, puts an end to inhumane, live Greyhound racing at Arizona's only remaining dog track in Tucson. We're working to lend resources to help find loving homes for the dozens of newly "unemployed" pups. We're thrilled with this enormous win for Arizona Greyhounds and thank the governor and our legislature for their support...[Read More]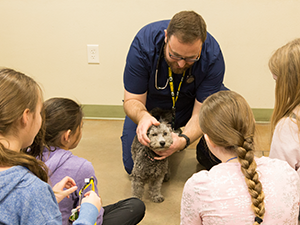 Summer Camp for Young Animal Lovers



Is your child sick of the same old summer camp? Your young animal enthusiast will love engaging with animals during our interactive, fun summer camp offerings...[Read More]


Dee Dee is a miniature Welsh Corgi with great fashion sense and is well aware of her adorableness when she's outfitted in a doggy dress or a fancy collar that sparkles. Her favorite holiday is Halloween and she always wins the costume contest. Her previous owner was moving out of state and now Dee Dee is looking for a new home. She's a bilingual canine who knows sit and down in Spanish and English and is already housetrained. The upbeat and fun-loving 2-year-old enjoys brisk walks, being the first to explore new dog parks, and lapping up a puppuccino at a local coffee shop on the weekends. Her guilty pleasures include cleaning the plates after dinner and binge-watching animal shows on Netflix.
Adopt Dee Dee at the Sunnyslope Campus.
Dribble for Cancer
May 14, 7:00 a.m.-12:30 p.m. - More Info

Dog Days of Summer at Chase Field
May 15, 1:10 p.m.-5:10 p.m. - More Info

It's Hip to Snip
May 17-May 19, check-in begins at 6:00 a.m. - More Info

Foster Hero Orientation
May 21, Noon-2:00 p.m. - More Info

Healthy Tails Mobile Veterinary Clinic Spay/Neuter Event - Mesa
May 24-May 26, check-in begins at 6:30 a.m. - More Info


Unsubscribe from receiving email, or change your email preferences.